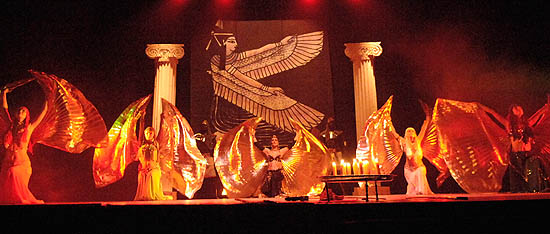 NAJMA ASANI
---
Najma founded the Centro ASANI© in Porto D'Ascoli, Italy in 2004. She is also the president of the Cultural Association of S.D. Maeva since 2001. At the age of 6 she began to study many styles of dance such as classical ballet, modern and jazz. Najma has chosen to dedicate her life to the oriental style of dance. Through the years she has studied and danced with the best Egyptian dance masters of the world including: Zaza Hassan, Raqia Hassan, Esmat Osman, Hossam e Serena Ramzy, Elhadi Cheriffa, Mahmoud Reda, Farida Fahmi, Aida Nour, Asmahana, Mohamed El Hosseny, Khaled Mahmoud and continues to do so.
After graduating with honors from the Centre Artistique school of dance in Paris, France, under the tutelage of Zaza Hassan, Najma formed an oriental dance course/school for masters patterned after the teachings of Zaza Hassan. Najma considers Zaza Hassan as her "artistic father" and continues to have a close mentoring relationship with him. Najma has travelled to various Arab countries in search of the spirit of "baladi".
Combining her experiences from yoga, pranayama and theatre, Najma originated the method ASANI© of oriental dance. With her method Najma is easily able to teach her students the fundamentals of oriental dance while continuing to include the flavour and meaning of the original dance form. With her best students Najma has formed the ASANI Group.
Najma loves the style of the old movies, especially Naima Akef. Her passion for this style of oriental dance is revealed in her specialization of sword dance and candelabra dance.
Through the years Najma has danced in famous events and various operas in theatres throughout Italy and the world. She has also authored and choreographed numerous operas with music, singing, acting, oriental dance, mise-en-scene. They have been enacted at various venues with the participation of masters of international fame such as: Ashraf Hassan, Elhadi Cheriffa, Wael Mansour, Oscar Flores. "Stelle del deserto" (2003), "El Samar" (2004), "Nei giardini di Federico II" (2005), "Il sogno di Cleopatra" (2006-2007) "Dido e il segreto di Anna" (2008). "Zenobia" is her latest musical which she wrote and performed in 2010 and in 2011.
In 2012 Najma wrote and performed the musical "Mata Hari" with the dancer Oscar Flores. The comedy had a great success and it has been translated in Spanish and English to be performed in Argentina, Holland and Canada.
She believes that "the ballet dancer is the first instrument of the orchestra". Najma continues to teach and perform in various oriental belly dance festivals (Bellydance Palermo, Riccione International Bellydance Congress). Her instructional DVD "Basic course of oriental dance" is edited in the series "Balla con noi", the next levels DVD are in the works and are expected to be published soon.
Technique and judge of the AICS (CONI), Najma obtained a degree in Ancient Literature with an experimental thesis in Greek Theatre, and, actually, is a secondary school teacher in the Italian school system. In 2021 she wrote and published the book "Il Libro della danza orientale. Mito, Storia e Manuale", ed. Youcanprint.
Najma has additional talent in classical guitar, acting, Arabic rhythm and percussion, speaking English, French, Spanish and Arabic language, and singing in various languages including Arabic.
Since 2008 she studied the disciplines of Kuchipudi and Bharatanatyam with the teachers Saraswati Rajatesh and Padmaja Suresh applying her knowledge to the Bollywood dance, which she teaches since 2012.